Speaker Support technology allows you to combine sequences that have already been completely set to music with additional ones, that can be individually controlled in an elegant way.
You can e.g. trigger individual images by pressing a button on your remote control, whilst commenting live. When pressing the next button, you could trigger a short sequence, that would be in perfect synch with the rhythm of the music.

Your show would "pause" with one image, whilst you would continue to describe interesting experiences. The following images could be faded into by another simple push of a button. All the while you can remain completely relaxed since you are the one deciding when to continue, simply by using the buttons on your remote.
This way you can switch as often as you want to between fully arranged musical passages and your live sequence. Your stories can unfold in an inspiring and exciting way that combines images, narration and music.
A special highlight is the animation feature, which can be used to create and animate travel itineraries. The basis for such an animation could be a geographical map or image, e.g. a picturesque mountain panorama, that should be adapted to include a hiking trail.
The animation would be added to said object, that would then show the trail as a vector based line.
Individual points along this line could be labelled, with the possibility to change the colour and style of the line itself. It is even possible to include multiple routes as part of a single animation. During playback, the hiking route or trail will be shown beginning with the starting point, continuing right until the final destination.
Both the speed and the map zoom factor can be adjusted using a variety of different options, which can be applied to create additional animation effects.
You can easily add titles and text directly within the Wings software. Formatting is object oriented, with the text being treated as an individual object to be added to an image track.
Wings 7 text effects are particularly inspiring, allowing you to create sophisticated title sequences with a professional look. The text function uses Unicode, which means you can also display special characters, umlauts and the additional foreign language font sets (Arabic, Kyrillic…).
Many speakers present their multimedia shows live. Until now, presentations were usually presented using standard remote controls, in order to stop and pause a presentation at will.
Wings Remote allows for additional possibilities. Using your mobile phone or tablet-PC, you can now access your Wings show directly. In addition to being able to continue a show from a pause marker, we added many useful functions like e.g. audio-ducking. This process describes lowering the audio level at the push of a button, in order to be able to spontaneously add commentary to a running show with background music.
The prompter feature shows you bullet points and related preview images in perfect synch. This way, you will never again forget messages that you wanted to convey as part of your presentation. You can even preview the next image on your smartphone display. You will not be caught by surprise by an upcoming image and can simply comment on the next picture to be faded in by pressing a button.
Wings 7 contains a newly developed video engine, that decodes videos external to the Wings Software itself, which allows for a higher performance and better usage of your hardware's main memory. This new approach makes Wings 7 more efficient and powerful, especially when dealing with high 4K resolutions.
PROJECTOR DATABASE AND SETUP-TOOL
Another new highly practical feature is the setup-tool, which allows you to set up your presentation equipment with only a few steps. The integrated projector database includes all generally available projectors and lenses. A sub-feature for calculating image size and the projection distance helps you plan your projection setups. You won't need old fashioned test slides anymore, since you can choose from among multiple test images in a great variety of resolutions for optimizing focus, tone value, brightness or convergence. Using these test images, it's very easy to spot and adjust any display problems you might encounter.
With Wings 7 you can save your video export settings as presets. The same presets can also be shared with other Wings users. Especially when working as part of larger teams e.g. as in the case of a photographer club or a large event, you can make sure all the videos being played out will display the exact same quality.
Just in case something does not go according to plan, you should think about data backup options.
Wings offers you a very convenient way to ensure all project files get backed up in a safe and secure way. No matter where you have embedded files from your PC in a show, Wings 7 collects all the data and creates a full project backup, e.g. on an external hard drive. The autosave feature will automatically save your current project in regular intervals.
Wings may not be a software solution solely dedicated to video editing, but it does give you the ability to view and edit video files in an efficient and frame accurate way. You can separate the audio track and edit it independently of your video file.
Optimizing a video with an additional editing software always means extra rendering time as well, which is not only time consuming, but can negatively affect the overall quality as well. Using realtime effects within a Wings show directly helps you save time and ensures a lossless workflow.
IMPORTING MUSIC FROM A CD
Transfer your music CD directly to Wings on your PC. At the push of a button, the contents can be synchronised with an internet database and all relevant information (album, title, performer…) will be added automatically. Your selected music files will then be converted to either MP3 or a WAV fie and copied into a file folder of your choice.
Wings can also process multi channel audio. Let your audience appreciate your soundtrack coming from multiple directions. Please note that you will need a multichannel sound card for the playout (max 32 channels), or you will have to create a WMV video in the 5.1 or 7.1 format. For great cinematic experiences with sound coming from all speakers!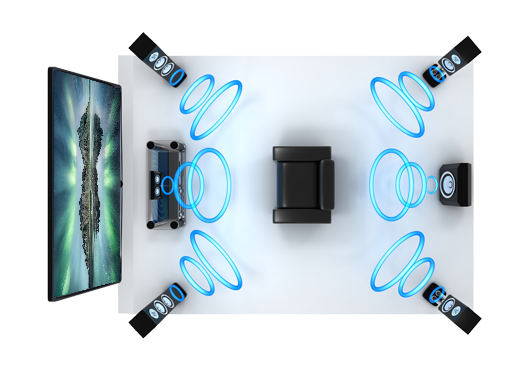 Wings can export your show in different resolutions, no matter whether you choose Full HD or 4K.
Something you might not be aware of is the fact that most TVs have an integrated media player function. Why not make use of this fact? Just create a file with the right format and maximum resolution using Wings. Once you have done that, just copy your video file onto a USB stick and play it directly on your TV. It has never been that easy to show your Wings show to your friends at home in 4K quality.